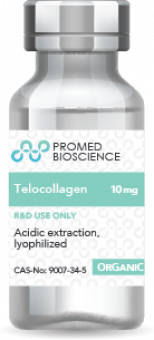 Telocollagen
Acidic extraction, lyophilized
ORGANIC
Description
Lyophilized telocollagen, characterized by highly pure Type I collagen that mimics the collagen fiber structure the native protein as found in tissues such as tendons Acid-based extraction method preserves the superior physical properties of the collagen fibrils such as the high tensile strength1,2

Applications
Suitable for:
In vitro cell culture
Collagen for culture coatings
Tissue engineering scaffolds
References
The Fibrous Proteins of the Matrix. Molecular Cell Biology, 4th edition.New York: W.H. Freeman.
LI, J., REN, N., QIU, J., JIANG, H., ZHAO, H., WANG, G., BOUGHTON, R. I., WANG, Y. & LIU, H. 2013. Carbodiimide crosslinked collagen from porcine dermal matrix for high-strength tissue engineering scaffold. International journal of biological macromolecules,61,69-74.
BACK