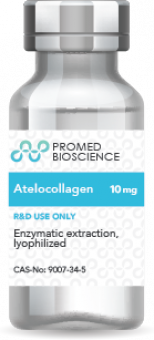 Atelocollagen
Enzymatic extraction, lyophilized
Description
Lyophilized, highly purified Type I atelocollagen with superior functionality and physical and mechanical properties (such as tensile strength and elasticity)
The proprietary enzyme-based extraction method used removes telopeptides at the non-helical N and C termini, resulting in a triple helix configuration that exhibits reduced immunogenicity.
Applications
Suitable for:
In vitro cell cultures
Cell functional assays (invasion assay, proliferation assay etc)
Soft 3D cell cultures (e.g. tumor assays)
Figure - Promed atelocollagen used as chemoattractant in cell invasion assay. Addition of atelocollagen to the substrate (A) promotes cell migration more efficiently than regular substrate (B) as quantified in graph C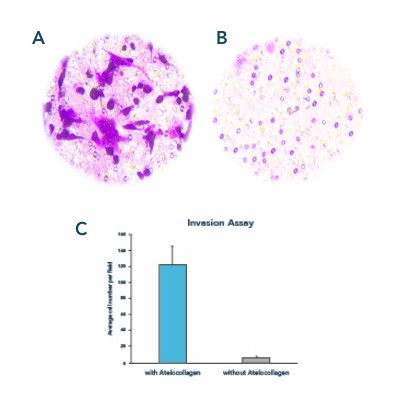 References
1. LYNN, A. K., YANNAS, I. V. & BONFIELD, W. 2004. Antigenicity and immunogenicity of collagen. Journal of Biomedical Materials Research,71B,343-354.
BACK