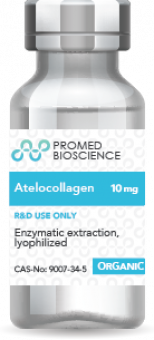 Atelocollagen
Enzymatic extraction, lyophilized
ORGANIC
Description
Lyophilized atelocollagen, characterized by highly pure Type I collagen content exhibits superior physical properties (strength, elasticity) and functionality
The proprietary enzyme-based extraction method used removes telopeptides at the non-helical N and C termini, resulting in a triple helix configuration that exhibits reduced immunogenicity.
Applications
Suitable for:
Three-dimensional cell cultures
Collagen for cell assays (invasion assay, proliferation assay etc)
Promed atelocollagen used as chemoattractant in cell invasion assay. Addition of atelocollagen to the substrate (A) promotes cell migration more efficiently than regular substrate (B) as quantified in graph C
References
1. LYNN, A. K., YANNAS, I. V. & BONFIELD, W. 2004. Antigenicity and immunogenicity of collagen. Journal of Biomedical Materials Research,71B,343-354.
BACK